Summary: you will learn how to use MySQL WHERE clause in the SELECT statement to filter rows in the result set.
Introduction to MySQL WHERE clause
The WHERE clause allows you to specify the search condition for the rows returned by the query. The following shows the syntax of the WHERE clause:
The search_condition is a combination of one or more predicates using the logical operator AND, OR and NOT. In SQL, a predicate is an expression that evaluates to true, false, or unknown.
Any row from the table_name that causes the search_condition to evaluate to true will be included in the final result set.
Besides the SELECT statement, you can use the WHERE clause in the UPDATE and DELETE statement to specify which rows to update and delete.
MySQL WHERE clause examples
We will use the employees table from the sample database for the demonstration.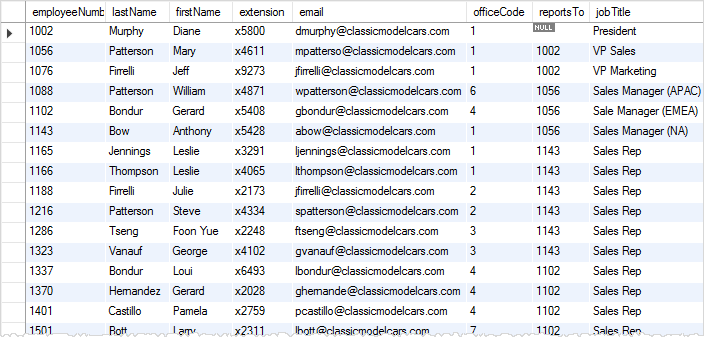 The following query finds the employees whose job title is Sales Rep:
Even though the WHERE clause appears at the end of the statement, MySQL evaluates the expression in the WHERE clause first to select the matching rows. It chooses the rows that have a job title as Sales Rep
MySQL then selects the columns from the select list in the SELECT clause. The highlighted area contains the columns and rows in the final result set.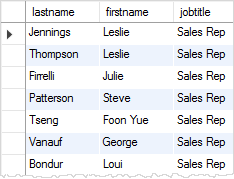 You can form a simple condition like the query above, or a very complex one that combines multiple expressions with logical operators.
For example, to find all sales rep in the office code 1, you use the following query:
jobtitle

=

'Sales Rep'

AND
The following table shows the comparison operators that you can use to form filtering expressions in the WHERE clause.
| Operator | Description |
| --- | --- |
| = | Equal to. You can use it with almost any data types. |
| <> or != | Not equal to. |
| < | Less than. You typically use it with numeric and date/time data types. |
| > | Greater than. |
| <= | Less than or equal to |
| >= | Greater than or equal to |
The following query uses the not equal to (<>) operator to find all employees who are not the Sales Rep: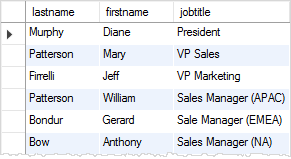 The following query find employees whose office code is greater than 5: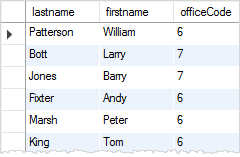 The following query returns employees with office code less than or equal 4 (<=4):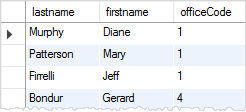 More on MySQL WHERE clause…
MySQL provides you with some other operators for using in the WHERE clause to form complex search conditions such as:
In this tutorial, you have learned how to use the MySQL WHERE clause to filter rows based on conditions.